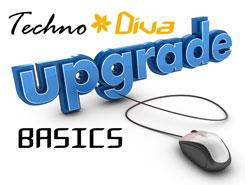 If you find yourself frustrated when you think about building or maintaining a website or when you hear terms like "cloud-based" computing, this is the workshop for you!
Kania "TechnoDiva" Kennedy will take you step by step through the process of bringing your small or emerging business into the 21st century.
Topics Covered Include:
Upgrading your image to look professional
Essential tools to do business quickly and efficiently while on the go
Social Media Basics
Event Promises
At the completion of this workshop you will be ready to move on to
Intermediate Social Media Strategies
– using Social Media to connect with your customers and increase profitability
TechnoDiva Technology 200
– Advanced skills for 21st Century Business Owners and their teams
Each Registered Student will receive the Electronic Version of Upgrade Basics Workbook. If you would like a printed & bound copy mailed to you, please select the option above!
Materials Needed
Telephone
Computer with Internet Connection